No, this isn't a book review. Far from it. It's a long, gushing post about how awesome Kate DiCamillo is.
First things first: this is a collaborative post between
Topaz
,
AnQi
,
Christina
,
Taylor
, and myself. Essentially, AnQi tweeted about the word "chiaroscuro", which prompted The Tale of Despereaux feels, which prompted general Kate DiCamillo feels, which prompted this five-way fangirl post.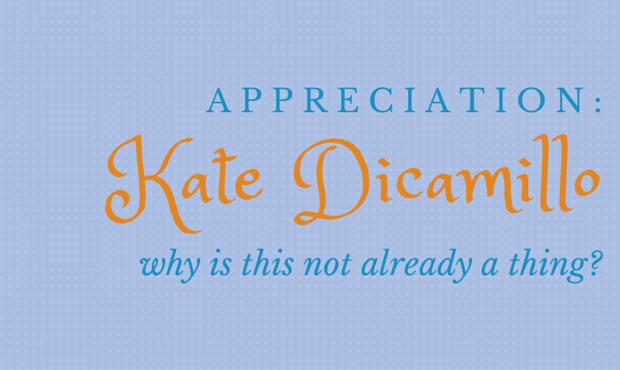 Yes, I put in two graphics. Because both Christina and Topaz made graphics and I suck at decisions.
For those of you who haven't read it (HOW DARE YOU),
The Miraculous Journey of Edward Tulane
is the story of how a china doll rabbit who doesn't understand love is parted from his owners repeatedly until he does understand love and reunites with the daughter of his now-adult first owner. I first read it because my mum bought it. No sweet story here, sorry.
Here's why you should read it if you haven't, or fangirl if you have:
1. CHINA. RABBIT. DOLL.
"Once, in a house on Egypt Street, there lived a rabbit who was made almost entirely of china. He had china arms and china legs, china paws and a china head, a china torso and a china nose. His arms and legs were jointed and joined by wire so that his china elbows and china knees could be bent, giving him much freedom of movement.

His ears were made of real rabbit fur, and beneath the fur, there were strong, bendable wires, which allowed the ears to be arranged into poses that reflected the rabbit's mood — jaunty, tired, full of ennui. His tail, too, was made of real rabbit fur and was fluffy and soft and well shaped.

The rabbit's name was Edward Tulane, and he was tall. He measured almost three feet from the tip of his ears to the tip of his feet; his eyes were painted a penetrating and intelligent blue.

... The china rabbit was in possession of an extraordinary wardrobe composed of handmade silk suits, custom shoes fashioned from the finest leather and designed specifically for his rabbit feet, and a wide array of hats equipped with holes so that they could easily fit over Edward's large and expressive ears. Each pair of well-cut pants had a small pocket for Edward's gold pocket watch."
I know this is a really long quote, but
damn.
These are the first few pages of the book, and goodness, younger me SO wanted a china rabbit for myself. Scratch that, re-reading this excerpt still makes me want one, even knowing this isn't entirely the point of the story.
And what's better: Edward Tulane snarks. He is condescending and snarky and he will make you laugh so much until his world falls apart and he breaks and so will your heart. And then the ending will mend you all over again. THE FEELS.
2. FAIRYTALE. SUBVERSIONS.
It's not a retelling per se, but like
The Tale of Despereaux
, the book draws heavily from the traditional fairytale. In the story, we have the story of a princess. Who is turned into a warthog. And
not
kissed by the prince. And just killed. No happy ending. Can you imagine how much that terrified my younger self and how much it impresses my present self?
AND. AND. DiCamillo manages to subvert her OWN fairytale in this, because Edward Tulane sort of gets a bittersweet-ish happy-ish ending (children's book, guys) that made me
melt into a puddle and die.
Aaaaah.
3. And the adults.
You know how in some children's books the adults are either full-blown evil or clueless? Well, NOT HERE.
The illustration under fairytale is Pellegrina, Edward's owner's grandmother, and she's the one who tells the in-story fairytale. She's like a little creepy and seems to know what Edward is thinking and feels like the typical prophesying hag, but she's so delightfully creepy. And at the same time not really malicious. Aaah.
Then we have Nella and Lawrence, a fisherman and his wife, the first picture under this section. Also Bull, a tramp. All of these are adults who care for Edward, and they're so nice and understanding and eeek. Yes, this post will involve a great deal of these useless sounds.
And last of all, we have a doll-
mender
(spoiler) called Lucius Clark. Now, I know his name sounds evil, but he's
not.
He genuinely has a passion for dolls and such, I think, not to mention immense skill. He isn't the Good Samaritan type, but he's not evil or immoral or even amoral. He's pretty fair. Also, he indirectly helped Edward to his semi-happy ending on two counts so he has a bit of leeway. But, y'know, he's STILL AWESOME.
Yay, I forewent exclamations for caps.
4. Illustration goodness.
I ... really dunno what to write here. The illustrations are to die for, and you've seen them above, and I don't want to make this an overly long post, so I'll just wrap up with one more:
And don't forget to check out all the other DiCamillo books of our childhood:
Topaz Winters: The Tale of Despereaux
AnQi Yu: Tiger Rising
Christina Im: Because of Winn-Dixie
Taylor Lynn: Flora and Ulysses
What's your favourite DiCamillo book? Have you got any other children's books that have stayed with you even after childhood? Let us know in the comments!
By the way, the five of us are considering turning this Literary Appreciation Series into a link-up, but it really depends if you guys are interested; so do let us know via comment or any other way if you would like to participate!
Note: All photos have been linked back to the source; if they're incorrectly sourced or you'd like me to remove them,
please contact me here
.