Delivery Fangirl is an original blog feature on The Devil Orders Takeout, featuring questions from my favourite books and movies, preferred headcanons, and the importance of diversity.
All girls want bad boys. Right?
RIGHT?
Erm, no.
Aimee Meester has written a post about the issue of the
bad boy love interest.
Let me make this clear first, though: it's okay to like these "bad boy" characters, despite their problematic portrayal. It's absolutely okay to acknowledge they are hot and charismatic (because that's
how they are portrayed
) so long as you don't gloss over the issues which Aimee discusses amazingly.
That's sort of where fandom, un-abbrv. fanatic domain, tends to slip.
Repeat after me: tragic backstory does not excuse villainy.
Tragic backstory does not excuse villainy
.
As a writer, I love to explore backstory. I'm really heavy on the nurture side of the nature vs nurture debate. I think that backstory, and by extension motivation, is a great way of deepening characterisation. And I love it when characters in media I consume are similarly justified in their actions.
Villains I can understand are the best kind of villains
.
However, many fandoms take these (often hugely attractive) "bad boy" characters and justify their immoral actions on basis of their tragic backstory. And while backstory can
explain
villainous actions, I don't believe it can
excuse
villainy.
Example no. 1: Loki (of the MCU)
And a significant portion of the fandom desperately wants him to be on the good side. (Me, I prefer him as a villain, but that's because I'm me.) Unfortunately, fanfiction often redeems him too easily, pseudo-incesty relationship with Thor optional.
HERE THERE BE SPOILERS.
A quick reminder of what Loki has done:
let Frost Giants in during Thor's coronation (and this was before knowing he was adopted)
set a Destroyer on Thor and his friends and the civilians of Puente Antiguo
froze the awesome Heimdall
brainwashed the awesome Hawkeye
sort-of killed the awesome Coulson
set a Chitauri army on Earth
did gods know what to Odin and took his throne
Loki may be the God of Mischief, but his MCU personality revels in villainy and chaos and murder, not simple mischief. And being adopted, and kept as a diplomatic bargaining chip, and years of bullying — that calls for therapy, not mass murder.
Example No. 2: Anakin Skywalker (spoilers for prequels)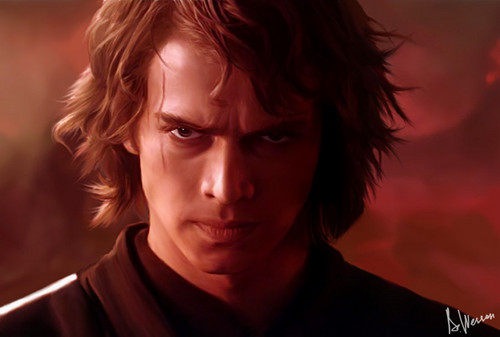 I'm gonna be honest here, I prefer Ewan McGregor. x
So, let's take a look at Anakin's backstory. He spent nine years in slavery, never saw his mum after that, forced to keep his marriage a secret, and probably did feel restrained by the stagnating Jedi Council. I don't deny all of that.
But instead of, I don't know, talking to the Council, yelling at Obi-Wan, or even just eloping with Padme, he decides to go ahead and destroy the Jedi Order. And he didn't just lash out against the Masters.
If you say that the Jedi's treatment were responsible for Anakin's fall, you also say that every single Jedi (give or take a few) deserved to be murdered for it.
I get that the Emperor is a powerful Sith. I don't get that the Anakin Skywalker who chafed against the Jedi's every rule suddenly became the Darth Vader who carried out the Emperor's every command. And that is why Anakin apologists will have to do without my vote.
I always thought he was cooler as Darth Vader, anyways.
Example No. 3: Snape (spoilers for the series)
is
, 99% of the fandom has watched the movies, and this is an issue with fandom, not readership.
I once got into an intense Twitter debate about whether Snape truly loved Lily Evans. I maintain that he harboured genuine feelings for her, but the last time I checked, love doesn't mean joining the enemy organisation of your supposed beloved, sort-of pleading for her life from a pretty obvious psychopath, and spending the next two decades being actively abusive towards supposed beloved's child.
Like, I seriously hope Lily hits him very, very hard in the afterlife for being such a jerk.
Again, bullying and rejection call for therapy. It does not call for joining a suspiciously KKK-ish organisation.
That said, I do suspect Snape may be a decent teacher. The really really good teachers are never nice, to be honest.
Not that we'll ever know, because the series follows Harry Potter and where Harry Potter goes, education does not happen.
Counter-example: Littlefinger (spoilers for his plotline in the series)
Littlefinger is very similar to Snape.
We're never sure whose side he's on, he loved a red-haired gorgeous badass lady who married someone else, he was trusted by some protagonists (*cough*NedStark*cough*), and he ends up protecting said lady's child in a very twisted way.
Littlefinger is also very clearly a villain
in the way Snape never was. Even if Aidan Gillen is quite charismatic in his portrayal of Petyr Baelish.
Despite their similarities, they are still very different characters with different roles in different books. But pretty much the whole fandom is united in that Littlefinger has to go, and this, I think, is why ASOIAF marked me so much as a reader.
Love doesn't conquer all; some monsters are made and not born.
What are your thoughts on gorgeous villains with tragic backstories? Have you ever fangirled over them? Be honest, now.
Twitter-sized takeout:
For more of my thoughts on tropes, join my takeout army for monthly musings!